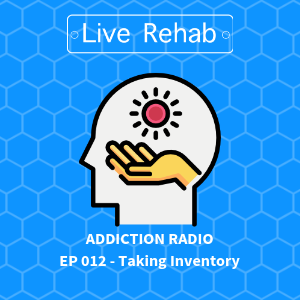 Welcome to another edition of Addiction Radio! This episode of Addiction Radio we're specifically talking about taking inventory of your life. This isn't about working in retail but instead is around understanding what changes you need to make now to your life.
Taking inventory helps you to understand the impact of your addiction from a few different angles:
Taking Inventory of your finances
Your financial life has likely taken a bit of a hit during your addiction. For one reason or another, you prioritized addictive behaviors over things like paying bills on time, saving money or even investing.
The problem with this is that you now likely must deal with those repercussions.
If you haven't been paying your bills on time for instance, you might have to be playing catch up for a while financially speaking.
Taking Inventory of your time
Addiction is a HUGE time sucker.
It sucks the time out of your day for so many reasons. Think about all the time you've invested in your addiction.
From the process of partaking in your addiction all the way through to those nasty hangovers the next day, these behaviors take a massive bite out of your life.
Now that you've stopped your addiction (or are actively working to stop it) you need to start making some smart decisions about what you're going to be filling that time with.
Taking Inventory of your emotional life
When you take inventory of your emotional life, you are probably going to run into some uncomfortable feelings. You can think of your own mental health and the people in your life to frame your emotions.
This process of taking inventory in these three areas of your life though isn't just limited to understanding what you were previously dealing with.
In fact, this episode of addiction radio is specifically about you learning about what to do next with your life in these areas and more.
Take money for instance.
It's a misconception to think you are going to suddenly have a ton more money in your life just because are you aren't spending it on booze.
Unfortunately this just isn't true.
You are going to have to catch up on bills, payback friends/families and generally start investing in a healthier lifestyle choice.
We provide the tools you need to really make some positive impact and change in your post-recovery life.
There is a lot to cover in this episode so jump right in and let us know what you think!
A message from Live Rehab: 
Are you looking for online rehab or alternatives to AA or NA?
Here at Live Rehab, our online drug and alcohol courses help people obtain sobriety without having to leave their homes. 
Does rehab really work? 
For some people, traditional rehab does work but it's clear that the option is not for everyone. This is why we have created rehab alternatives. Taking courses online means you have the flexibility to work on your sobriety on your own time. 
Visit liverehab.com/pricing for more information. 
Podcast: Play in new window | Download
Subscribe: Apple Podcasts | RSS