Podcast: Play in new window | Download
Subscribe: Apple Podcasts | RSS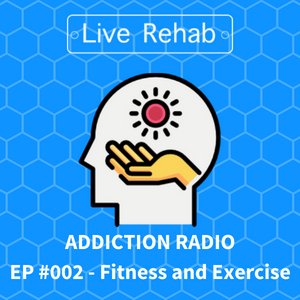 Fitness.
You either love being active or you absolutely loathe it. The thing is, I don't think I've ever run into someone who was just kind of the middle of the road about being fit and active. With addiction and recovery however, fitness and activity levels can dramatically alter the trajectory of your success.
Fitness is so beneficial for people who aren't in recovery or battling addiction too! We really had some fun recording this episode of addiction radio – we hope you  enjoy it as much as we did recording it.
Why Fitness is Important in Recovery
First off, I want to recognize that recovery is hard work and for many of you, just thinking about exercising or engaging in fitness may seem near impossible. And that's okay. Let's start this by talking about why fitness plays a crucial role in your ability to completely recover from your addiction and from there we'll talk about how you can take the steps you need to take to get started.
Let's dive into this months episode where we're going to address this head-on!
Addiction Radio – Fitness and Exercise
We're really excited here at Live Rehab to share our 2nd ever podcast episode with everyone. If you like the podcast or just want to help spread the good word, don't forget to head on over to iTunes to rate, review and subscribe!
A message from Live Rehab:
Are you looking for online rehab or alternatives to AA or NA?
Here at Live Rehab, our online drug and alcohol courses help people obtain sobriety without having to leave their homes.
Does rehab really work?
For some people, traditional rehab does work but it's clear that the option is not for everyone. This is why we have created rehab alternatives. Taking courses online means you have the flexibility to work on your sobriety on your own time.
Visit liverehab.com/pricing for more information.