Podcast: Play in new window | Download
Subscribe: Apple Podcasts | RSS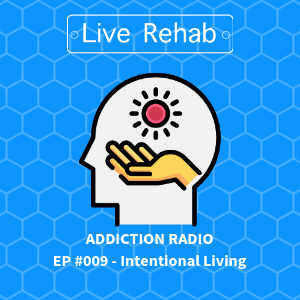 Do you live life fully?
Have you ever felt like you were just going from moment?
Perhaps travelling between events or situations without even really knowing why?
Are your feelings about things unclear?
Even if you're in a great state right now with your recovery and sobriety, there is a lot to consider when it comes to living within intention.
Living with intention is interconnected with every single activity in your life. This means that it plays a role both in your active recovery but also played a role in your addiction (consciously or subconsciously).
You need to be making incredibly intentional decisions in your life in order to drive the kind of change and impact you want to see.
In this months podcast episode of Addiction Radio, we'll talk in detail about what is intentional living, how you can apply it to your life and the power that it has for recovery.
To your recovery!
A message from Live Rehab:
Are you looking for online rehab or alternatives to AA or NA?
Here at Live Rehab, our online drug and alcohol courses help people obtain sobriety without having to leave their homes.
Does rehab really work?
For some people, traditional rehab does work but it's clear that the option is not for everyone. This is why we have created rehab alternatives. Taking courses online means you have the flexibility to work on your sobriety on your own time.
Visit liverehab.com/pricing for more information.
====