Podcast: Play in new window | Download
Subscribe: Apple Podcasts | RSS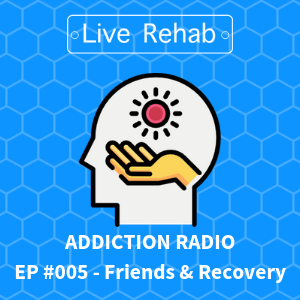 Loneliness in recovery is a very real and common relapse trigger. Unfortunately, your friendship situation might be a lot more (or less) complicated than say your family. What should and can you do about friends?
Join us for this episode of Addiction Radio as we discover some of the most important elements you need to be thinking of when it comes to friendships in recovery. You don't want to feel alone but you also don't want to be in a situation where your friends are dragging you back into things which jeopardise your sobriety.
We'll cover why friendships are important, the signs of unhealthy relationships, the signs of healthy friendships, when to walk away, keeping friendships strong in recovery and how to regain trust.
So dive on in and listen – don't forget to rate, subcribe and comment if you can!
A message from Live Rehab:
Are you looking for online rehab or alternatives to AA or NA?
Here at Live Rehab, our online drug and alcohol courses help people obtain sobriety without having to leave their homes.
Does rehab really work?
For some people, traditional rehab does work but it's clear that the option is not for everyone. This is why we have created rehab alternatives. Taking courses online means you have the flexibility to work on your sobriety on your own time.
Visit liverehab.com/pricing for more information.